VARIABLES PARA EMPATIZAR CON LAS CALLES
Un caso de la ciudad de Lima
Palabras clave:
Calles, empatía, percepciones, imaginarios urbanos, ambiente construido
Resumen
La empatía ha permitido actuar de la manera más adecuada ante situaciones ajenas desde la compresión del punto de vista del otro, es decir, desde un entendimiento detallado de nuestro entorno. El Einfühlung, pieza fundamental en la conceptualización de la empatía, posibilita expandir esa interacción a los objetos para revelar cómo se produce una empatía con las calles. Este tipo de empatía ha sido posicionada en la etapa disposicional permitiendo explorar las respuestas intrapersonales como el entendimiento, comprensión, identificación y reconocimiento de sus diversos componentes. Mediante la utilización de un estudio cualitativo en calles de los barrios limeños de Lince, Jesús María y Santa Beatriz, se compararon fachadas que revelaron variables en la construcción de percepciones e imaginarios urbanos. Como resultado, se encontró que la localización, visibilidad, variedad, sentido de comunidad e historización influían en la predisposición para el reconocimiento, o no, de calles con vida.
Citas
Abercrombie, M., Hickman, M., Johnson, M. L., & Thain, M. (1990). The New Penguin Dictionary of Biology. London: Penguin Books.
Alexander, Christopher (2002). The Nature of Order: The Phenomenon of Life. Berkely: The Center for Environmental Structure.
Bailey, A. W., Allen, G., Herndon, J., & Demastus, C. (2018). Cognitive benefits of walking in natural versus built environments. World Leisure Journal, LX(4), 293-305.
Begazo, J., & Fernandez, W. (2015). Los millennials peruanos: Características y proyecciones de vida. Gestión en el Tercer Milenio, Rev. de Investigación de la Fac. de Ciencias Administrativas, 18(36), 9-15.
Bergson, Henri (1944). Creative Evolution. New York: Random House.
Coplan, A., & Goldie, P. (Edits.). (2011). Empathy: Philosophical and psychological perspectives. New York: Oxford University Press.
Currie, Gregory (2011). Empathy for objects. En A. Coplan, & P. Goldie (Edits.), Empathy: Philosophical and psycological perspectives (págs. 82-95). New York: Oxford University Press.
Davis, Mark (1996). Empathy: A social psychological approach. Boulder: Westview Press.
Dextre, J., & Avellaneda, P. (2014). Movilidad en zonas urbanas. Lima: PUCP.
Diario Gestión. (16 de Mayo de 2019). ¿Quiénes tienen la última decisión en la compra de una vivienda? Recuperado el 21 de Abril de 2020, de Diario Gestión: https://gestion.pe/tu-dinero/inmobiliarias/quienes-ultima-decision-compra-vivienda-267128-noticia/
Driesch, Hans (1914). The history & theory of vitalism. London: Macmillan.
Erikson, Erik (1982). The life cycle completed. New York: Norton.
Flores, Gustavo (Setiembre de 2016). Kamaq y no Kamay. Una eurocéntrica traducción. Recuperado el 21 de Agosto de 2019, de Libros Peruanos: http://www.librosperuanos.com/autores/articulo/00000002384/Kamaq-y-no-Kamay.-Una-eurocentrica-traduccion
Gehl, Jan (2011). Life between buildings: Using public space. Washington DC: Island Press.
Gerdes, K., Segal, E., & Leitz, C. (2010). Conceptualising and Mesuring Empathy. British Journal of Social Work(40), 2326-2343.
Gonzales de Olarte, E., del Solar, V., & del Pozo, J. (2011). Lima metropolitana después de las reformas neoliberales: Transformaciones económicas y urbanas. En C. de Mattos, W. Ludeña, & L. Fuentes (Edits.), Lima-Santiago. Reestructuración y cambio metropolitano (págs. 135-176). Santiago de Chile y Lima: Pontificia Universidad Católica del Perú.
Grant, G., Machaczek, K., Pollard, N., & Allmark, P. (2017). Walkin, sustainability and health: Findings from a study of a Walking fo Health group. Health and Social Care in the Community, XXV(3), 1218-1226.
Jacobs, Jane (2011). Muerte y Vida de las Grandes Ciudades. Madrid: Capitán Swing.
Jeuken, Marius (1975). The biological and philosiphical definitions of life. Acta Biotheoretica, 24(1-2), 14-21.
Just, M., & Carpenter, P. (1975). Eye Fixations and Cognitive Processes. Carnegie-Mellon University, Dept. of Psychology. Pittsburgh: Carnegie-Mellon University.
Knapp, Mary (27 de Julio de 2017). "Our society will be defined not only by what it creates, but by what it refuses to destroy." John Sawhill. Recuperado el 12 de Julio de 2019, de Hints and Echoes. Observations on the journey from the past to the present and beyond: https://hintsandechoes.com/2017/07/27/our-society-will-be-defined-not-only-by-what-it-creates-but-by-what-it-refuses-to-destroy-john-sawhill/
Lamont, Michèle (2012). Toward a comparative sociology of valuation and evaluation. The Annual Review of Sociology, 38, 21.1-21.21.
Muggah, Robert (13 de Junio de 2016). Latin America's cities: unequal, dangerous and fragile. But that can change. Recuperado el 20 de Junio de 2021, de World Economic Forum: https://www.weforum.org/agenda/2016/06/latin-america-s-cities-unequal-dangerous-and-fragile-but-that-can-change/
Neira, Hugo (2015). Civilizaciones comparadas. Lima: Cauces.
Observatorio Lima Cómo Vamos. (2019). Lima y Callao según sus ciudadanos: Décimo informe urbano de percepción sobre calidad de vida en la ciudad. Lima: Asociación Unacem.
Reyes, José (7 de Junio de 2019). Ejecutivos millennials son los que más invierten en comprar inmuebles para luego alquilarlos. Recuperado el 6 de Mayo de 2020, de Diario Gestión: https://gestion.pe/tu-dinero/inmobiliarias/millennials-son-invierten-comprar-inmuebles-luego-alquilarlos-269462-noticia/
Rolnik, Raquel (2017). La guerra de los lugares: La colonización de la tierra y la vivienda en la era de las finanzas. Santiago de Chile: LOM.
Salas, Juan (2017). La identidad de la arquitectura residencial multifamiliar contemporánea en Lima. Arquitextos(28), 84-92.
Salingaros, Nikos (2015). Biophilia & healing environments: Healthy principles for designing the built world. New York: Terrapin Bright Green.
Sluyter, Andrew (2003). Neo-Environmental Determinism, Intellectual Damage Control, and Nature/Society Science. Antipode, 35(4), 813-817.
Sussman, A., & Hollander, J. (2014). Cognitive Architecture: Designing for How We Respond to the Built Environment. New York: Routledge.
Vega Centeno, P., Dammert Guardia, M., Moschella, P., Vilela, M., Bensús, V., Fernández de Córdova, G., & Pereyra, O. (2019). Las centralidades de Lima Metropolitana en el siglo XXI: Una aproximación empírica. Lima: Pontificia Universidad Católica del Perú.
Wilson, Edward (1984). Biophilia: The human bond with other species. Cambridge: Harvard University Press.
Wrann, C. D., White, J. P., Salogiannnis, J., Laznik-Bogoslavski, D., Wu, J., Ma, D., . . . Spiegelman, B. M. (2013). Exercise induces hippocampal BDNF through a PGC-1a/FNDC5 pathway. Cell Metabolism(18), 1-11.
Zapata-Diomedi, B., Boulangé, C., Giles-Corti, B., Phelan, K., Washington, S., Veerman, J. L., & Gunn, L. D. (2019). Physical activity-related health and economic benefits of building walkable neighbourhoods: a modelled comparison between brownfield and greenfield developments. International Journal of Behavioral Nutrition and Physical Activity, XVI(1), 1-12.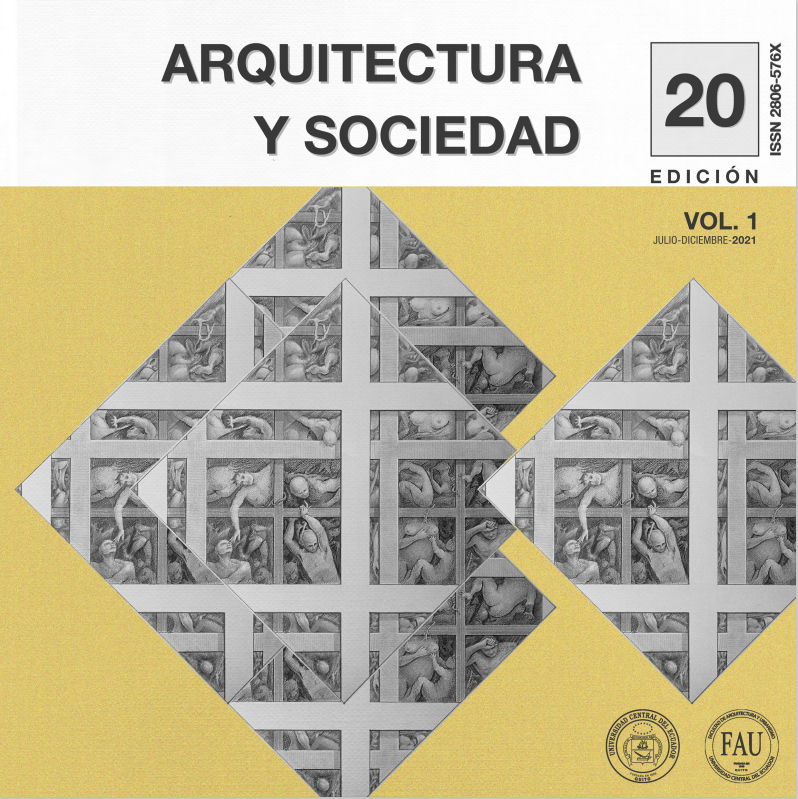 Descargas
Cómo citar
Córdova Ramírez, M. (2021). VARIABLES PARA EMPATIZAR CON LAS CALLES: Un caso de la ciudad de Lima. Arquitectura Y Sociedad, 1(20), 54–71. https://doi.org/10.29166/ays.v1i20.3498
Licencia
Esta obra está bajo una licencia internacional Creative Commons Atribución-NoComercial 4.0.