Microfiltraciones entre ionómero de vidrio y resina compuesta en lesiones clase-V no cariosas
Palabras clave:
Filtración dental, adaptación marginal dental, resinas compuestas, cemento de Ionómero Vítreo, Recubrimiento de la Cavidad Dental
Resumen
No se han establecido estándares para el tratamiento de cavidades cervicales no cariosas; un biomaterial adecuado permitirá buena adaptación y longevidad de la restauración. Objetivo: Determinar la microfiltración en cavidades clase V no cariosas restauradas con ionómero de vidrio y resina nanoparticulada. Materiales y métodos: Cavidades clase V realizadas en la superficie vestibular de 80 premolares sanos (1,5 mm de profundidad x 3 mm de altura en sentido ocluso- gingival x 2 mm de ancho en sentido mesio-distal) se restauraron aleatoriamente con dos biomateriales (n = 40): 1) ionómero de vidrio y 2) resina de nano relleno. Después, los especímenes fueron aislados con barniz y sumergidos en azul de metileno por 24 horas. Posteriormente, las muestras se sometieron 500 ciclos de termociclado por 8 horas y 45 minutos con cambios térmicos de 37°, 72° y 75°C, cada ciclo con una duración de 17 segundos. Las muestras fueron lavadas con agua destilada y seccionadas longitudinalmente para determinar el grado de microfiltración utilizando un estereoscopio (Leica M60, Biosystems). Los datos categóricos se analizaron con el test Chi2 en SPSS 24®. Resultados: Se pudo apreciar que la filtración es significativamente menor en resina que con ionómeros de vidrio (p < 0,001). Sin embargo, ninguno de los materiales de restauración probados fue capaz de sellar los márgenes o las paredes de los dientes completamente. Conclusión: como resultado del presente experimento se determina que las restauraciones de clase V obturadas con resina de nano relleno presentan menor microfiltración marginal que las restauradas con ionómero de vidrio.
Descargas
Los datos de descargas todavía no están disponibles.
Citas
Yang S, Lee H, Jin S-H. A combined approach to non-carious cervical lesions associated with gingival recession. Restor Dent Endod. 2016;41(3):218.
Perez CDR, Gonzalez MR, Prado NAS, de Miranda MSF, Macêdo M de A, Fernandes BMP. Restoration of noncarious cervical lesions: when, why, and how. Int J Dent. 2012;2012:687058.
Memarpour M, Derafshi R, Razavi M. Comparison of microleakage from stainless steel crowns margins used with different restorative materials: An in vitro study. Dent Res J (Isfahan). 2016;13(1):7–12.
Naik V-K, Jacob C-A, Nainar D-A. Assessment of non-carious root surface defects in areas of gingival recession: A descriptive study. J Clin Exp Dent. 2016;8(4):e397–402.
Carlo B, Barabanti N, Piccinelli G, Faus-Matoses V, Cerutti A. Microbiological characterization and effect of resin composites in cervical lesions. J Clin Exp Dent. 2017;9(1):e40–5.
Lanata EJ. Operatoria Dental. 1st ed. Buenos Aires; 2003. 322 p.
Luong E, Shayegan A. Assessment of microleakage of class V restored by resin composite and resin-modified glass ionomer and pit and fissure resin-based sealants following Er:YAG laser conditioning and acid etching: in vitro study. Clin Cosmet Investig Dent. 2018;10:83–92.
Sadeghi M, Davari A, Lynch CD. The effect of re-bonding using surface sealant or adhesive system on microleakage of class V resin composite restorations. Dent Res J (Isfahan). 2013;10(5):596–601.
Nematollahi H, Bagherian A, Ghazvini K, Esmaily H, Mehr MA. Microbial microleakage assessment of class V cavities restored with different materials and techniques: A laboratory study. Dent Res J (Isfahan). 2017;14(5):344–50.
Lee JJ, Nettey-Marbell A, Cook A, Pimenta LAF, Leonard R, Ritter A V. Using Extracted Teeth for Research: The Effect of Storage Medium and Sterilization on Dentin Bond Strengths. J Am Dent Assoc. 2007;138(12):1599–603.
Gupta J, Thomas MS, Radhakrishna M, Srikant N, Ginjupalli K. Effect of silver diamine fluoride-potassium iodide and 2% chlorhexidine gluconate cavity cleansers on the bond strength and microleakage of resin-modified glass ionomer cement. J Conserv Dent. 2019;22(2):201–6.
Selvaraj K, Sampath V, Sujatha V, Mahalaxmi S. Evaluation of microshear bond strength and nanoleakage of etch-and-rinse and self-etch adhesives to dentin pretreated with silver diamine fluoride/potassium iodide: An in vitro study. Indian J Dent Res. 2016;27(4):421.
Hernández M. Aspectos prácticos de la adhesión a dentina. Av Odontoestomatol. 2004;6(1):19–32.
Jordehi AY, Shahabi MS, Akbari A. Comparison of self-adhering flowable composite microleakage with several types of bonding agent in class V cavity restoration. Dent Res J (Isfahan). 2019;16(4):257–63.
Sooraparaju SG, Kanumuru PK, Nujella SK, Konda KR, Reddy KBK, Penigalapati S. A Comparative Evaluation of Microleakage in Class V Composite Restorations. Int J Dent. 2014;2014:1–4.
Gupta A, Tavane P, Gupta PK, Tejolatha B, Lakhani AA, Tiwari R, et al. Evaluation of Microleakage with Total Etch, Self Etch and Universal Adhesive Systems in Class V Restorations: An In vitro Study. J Clin Diagn Res. 2017;11(4):ZC53–6.
Bollu IP, Hari A, Thumu J, Velagula LD, Bolla N, Varri S, et al. Comparative Evaluation of Microleakage Between Nano-Ionomer, Giomer and Resin Modified Glass Ionomer Cement in Class V Cavities-CLSM Study. J Clin Diagnostic Res JCDR. 2016;10(5):ZC66.
Kumar U, Dharmani CKK, Singh S, Logani A, Shah N. Effect of Air Abrasion Preconditioning on Microleakage in Class V Restorations Under Cyclic Loading: An In-vitro Study. J Clin Diagn Res. 2014 May;8(5):ZC29-32.
Sharafeddin F, Yousefi H, Modiri S, Tondari A, Safaee Jahromi S. Microleakage of Posterior Composite Restorations with Fiber Inserts Using two Adhesives after Aging. J Dent Shiraz Univ Med Sci. 2013;14(143):90–5.
Bortolotto T, Betancourt F, Krejci I. Marginal integrity of resin composite restorations restored with PPD initiatorcontaining resin composite cured by QTH, monowave and polywave LED units. Dent Mater J. 2016;35(6):869–75.
Yoshimine N, Shimadab Y, Tagami J, Sadr A. Interfacial Adaptation of Composite Restorations Before and After Light Curing: Effects of Adhesive and Filling Technique. J Adhes Dent. 2015;17(4):329–36.
Al-Agha EI, Alagha MI. Nanoleakage of Class V Resin Restorations Using Two Nanofilled Adhesive Systems. J Int Oral Heal. 2015;7(7):6–11.
Mamaladze M, Khutsishvili L, Zarkua E. Distribution of carious and non-carious cervical lesions and gingival recession at age related aspects. Georgian medical news. Georgian Med News. 2016;7–8(256–257):18–22.
Casselli DSM, Faria-E-Silva AL, Casselli H, Martins LRM. Marginal adaptation of class V composite restorations submitted to thermal and mechanical cycling. J Appl Oral Sci. 2013 Feb;21(1):68–73.
Doozandeh M, Shafiei F, Alavi M. Microleakage of Three Types of Glass Ionomer Cement Restorations: Effect of CPP-ACP Paste Tooth Pretreatment. J Dent (Shiraz, Iran). 2015;16(3):182–8.
Pereira J-R, Júnior L-C, Só M-V-R, Júnior N-F. Effect of thermocycling and varying polymerization techniques on the restorative interface of class V cavities restored with different composite resin systems. J Clin Exp Dent. 2017;9(3):e405–9.
Mozaffari HR, Ehteshami A, Zallaghi F, Chiniforush N, Moradi Z. Microleakage in Class V Composite Restorations after Desensitizing Surface Treatment with Er:YAG and CO2 Lasers. Laser Ther. 2016;25(4):259–66.
Patnana AK, Vanga VNR, Chandrabhatla SK. Evaluating the Marginal Integrity of Bulk Fill Fibre Reinforced Composites in Bio-mimetically Restored Tooth. J Clin Diagn Res. 2017 Jun;11(6):ZC24–7.
Gopinath V. Comparative evaluation of microleakage between bulk esthetic materials versus resin-modified glass ionomer to restore class II cavities in primary molars. J Indian Soc Pedod Prev Dent. 2017;35(3):238.
Alizadeh Oskoee P, Pournaghi Azar F, Jafari Navimipour E, Ebrahimi Chaharom ME, Naser Alavi F, Salari A. The effect of repeated preheating of dimethacrylate and silorane-based composite resins on marginal gap of class V restorations. J Dent Res Dent Clin Dent Prospects. 2017;11(1):36–42.
Altunsoy M, Tanrıver M, Türkan U, Uslu ME, Silici S. In Vitro Evaluation of Microleakage and Microhardness of Ethanolic Extracts of Propolis in Different Proportions Added to Glass Ionomer Cement. J Clin Pediatr Dent. 2016;40(2):136–40.
Garcia-Godoy F, Malone WF. Microleakage of posterior composite restorations after rebonding. Compendium. 1987;8(8):606–9.
Han S-H, Sadr A, Tagami J, Park S-H. Non-destructive evaluation of an internal adaptation of resin composite restoration with swept-source optical coherence tomography and micro-CT. Dent Mater. 2016 Jan;32(1):e1–7.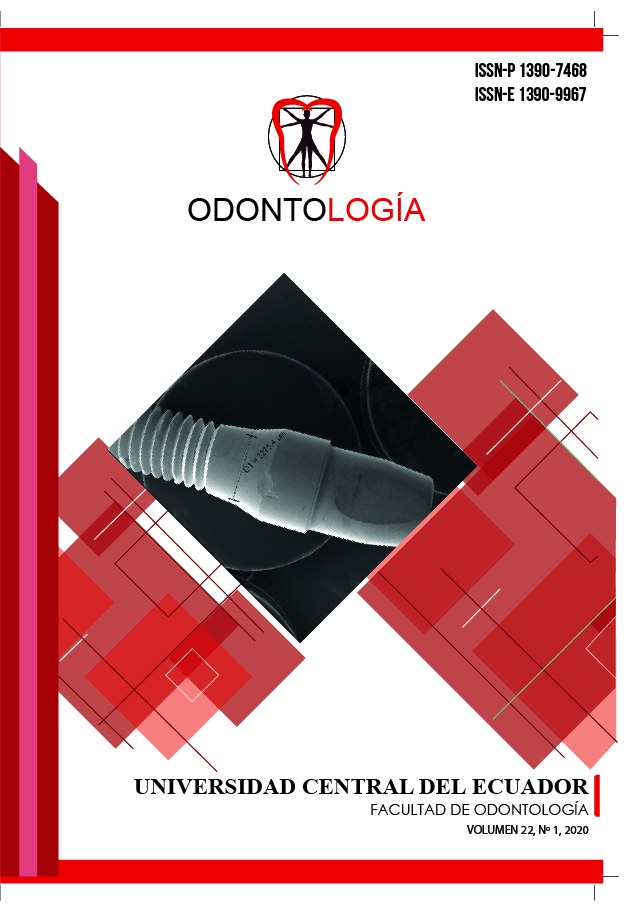 Cómo citar
Morillo-Cárdenas, E. C., García Cárdenas, J. M. ., Flores-Araque, M. E., Paz-y-Miño, C. ., & Leon, P. E. (2020). Microfiltraciones entre ionómero de vidrio y resina compuesta en lesiones clase-V no cariosas. Revista Odontología, 22(1), 66-81. https://doi.org/10.29166/odontologia.vol22.n1.2020-66-81
Sección
Artículo Científico
Licencia
Derechos de autor 2020 Eliana Carolina Morillo-Cárdenas, Jennyfer M. García Cárdenas, María Elena Flores-Araque, César Paz-y-Miño, Paola E. Leon
Esta obra está bajo una licencia internacional Creative Commons Atribución-NoComercial-SinDerivadas 4.0.